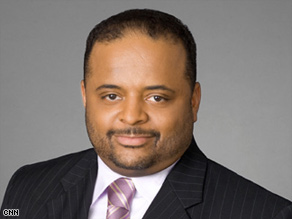 Roland Martin says Colin Powell should back up his words with action to reshape the GOP.
(CNN) -- The back-and-forth between former Secretary of State Colin Powell, former Vice President Dick Cheney, and radio entertainer Rush Limbaugh, has been, well, entertaining and fascinating.
You have these enormous personalities and egos slamming into each other over what it means to be a Republican and the course the party should be on, as it is in desperate need of a vision.
Yet while folks like me in the media love the brouhaha, and TV and radio producers salivate at the chance to book any one of these three on their programs, the inevitable question has to be asked: What now?
And this is where former House Speaker Newt Gingrich is correct. Powell must go beyond commenting on the state of the party and what it needs, and work to help rebuild, reshape and revitalize the GOP in the form he thinks is appropriate for the 21st century.
Let's be clear: Powell is under no obligation to hit the road campaigning for candidates, raising funds, participating in strategy sessions, and the dirty work necessary to make his vision a reality. But unless a leader such as Powell champions the cause of a moderate Republican Party, what he has been saying lately will be merely words.