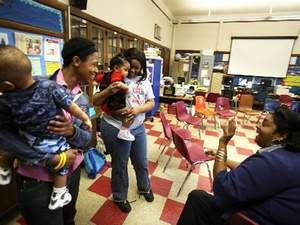 From the Voice of Detroit
DETROIT – In an interview with VOD, Ashley Matthews, 17, described the heroic student-led occupation of her school, Catherine Ferguson Academy on April 15. She spoke of the wholehearted support the young mothers received from the community, as well as the vicious physical and verbal brutality police visited on them during their arrests.
She said two toddlers, there with their mothers, watched the events.
Inside Catherine Ferguson Academy in happier times
"When I came home, my mom and step-dad watched us on the news," Matthews said. "My mom broke out in tears when she saw how the police treated me. She told me, 'I'm so proud of you.' This was the most joyful moment of my life. I was so flabbergasted by all the support and I felt so much pride because I actually stood up for something I believe in."
Catherine Ferguson is a Detroit Public School for teens with children, or who are expecting. It provides special support services to help them complete their education and go on to college. It received broad publicity last year for the urban farm the students themselves created in the surrounding area.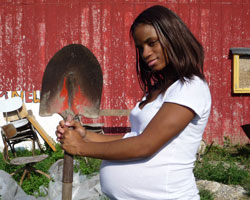 Catherine Ferguson student working on well-publicized urban farm
It is the only school of its kind in the country, but it is on the list of almost 60 schools that DPS czar Robert Bobb, board chair Anthony Adams, and their state cronies, have slated for the chopping block this June, either through closure, merger or charterization.  (See VOD article athttp://voiceofdetroit.net/?p=6372)
Matthews said she has a two-year-old daughter, Breanna.
Click to read.