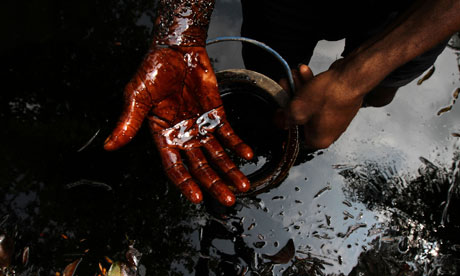 The Shell Oil company
has been accused of doing a lot of dirty work to allow the company to exploit poor countries around the world. Nigeria has always been at the top of that list, being a major oil producer. The problem is that only a few have gotten wealthy from the oil, while millions of others are on the brink of starvation.
It is now being reported that Shell paid the Nigerian military to squash rebellions and peaceful protests by any means necessary. This led to the deaths of thousands of people, and the killings occurred in such a way that Shell was able to conveniently deny responsibility.
The UK Guardian tells it best:
Shell has never denied that its oil operations have polluted large areas of the Niger Delta – land and air. But it had resisted charges of complicity in human rights abuses.
Court documents now reveal that in the 1990s Shell routinely worked withNigeria's military and mobile police to suppress resistance to its oil activities, often from activists in Ogoniland, in the delta region.
Confidential memos, faxes, witness statements and other documents, released in 2009, show the company regularly paid the military to stop the peaceful protest movement against the pollution, even helping to plan raids on villages suspected of opposing the company.
According to Ogoni activists, several thousand people were killed in the 1990s and many more fled that wave of terror that took place in the 1990s.
SOURCE