An amendment in the $787 billion economic stimulus package passed by Congress Friday would severely restrict bonuses and other forms of compensation for top executives at companies receiving federal bailout money.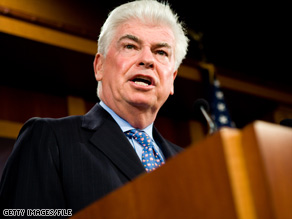 Sen. Chris Dodd's amendment will affect more executives than previously anticipated, financial analysts say.
The amendment by Sen. Chris Dodd, chairman of the Senate Committee on Banking, Housing and Urban Affairs, would impose wide-ranging restrictions on how -- and by how much -- top executives at companies receiving federal bailout money can be compensated.
The measure would cap bonuses -- already often far more lucrative than base salaries for top executives -- and could require executives at companies that have already received bailout money to pay back some of their compensation if it exceeded certain limits.
Dodd, a Democrat from Connecticut, said the amendment was aimed at imposing "tough new limits on huge bonuses" for executives at firms receiving money from the government's Troubled Asset Relief Program, or TARP.
"The decisions of certain Wall Street executives to enrich themselves at the expense of taxpayers have seriously undermined public confidence in efforts to stabilize the economy. American taxpayers deserve better," Dodd said.