The U.S. Senate gave final approval Friday to a $787 billion recovery package that President Obama hopes will help boost an economy in freefall with a combination of government spending and tax cuts and credits.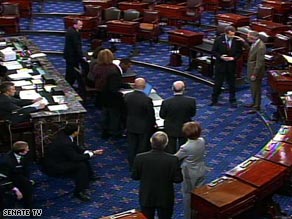 Sen. Sherrod Brown speaks to Senate Majority Leader Harry Reid at right on the Senate floor Friday.
Approved earlier by the House, the plan -- which went through multiple permutations as it bounced back and forth on Capitol Hill over the past week -- now goes to Obama's desk, where he plans to sign it into law by Presidents Day.
Spending in the package includes about $120 billion for infrastructure -- new projects repairing bridges, roads, government buildings and the like -- more than $100 billion for education and $30 billion on energy-related projects that Obama says will create "green jobs."
More than $212 billion goes to tax breaks for individuals and businesses, and another $267 billion is in direct spending like food stamps and unemployment benefits.
The Congressional Budget Office has predicted that the plan will create between 1 million and 3 million jobs.
Most individuals will get a $400 tax credit, and couples will get $800.
The vote by the Senate took several hours longer than a simple roll call of its 100 members generally would. Sen. Sherrod Brown, a Democrat from Ohio, attended a wake for his mother until about 8 p.m. Friday.
Voting began about 5:30 p.m. Then, the Senate chamber sat nearly empty until Brown arrived to vote about five hours later.
He was flown from Ohio to Washington on a plane provided by the White House, which said no commercial flights were available that would have allowed Brown to cast a vote and return to Ohio in time for his mother's funeral Saturday.