President Obama made an unannounced visit to Iraq Tuesday.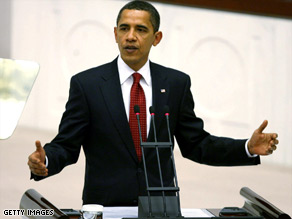 President Obama stopped in Iraq on Tuesday, after visiting Turkey where he addressed parliament Monday.
The top U.S. commander in Iraq, Gen. Ray Odierno, met Obama shortly after Air Force One landed in Baghdad about 4:42 p.m. local time (9:42 a.m. ET).
Obama chose to visit Iraq rather than Afghanistan because of its proximity to Turkey, which Obama just visited, said Robert Gibbs, the president's spokesman.
In addition, Obama wanted to discuss Iraq's political situation with Iraqi Prime Minister Nouri al-Maliki and Iraqi President Jalal Talibani, Gibbs said.
Mostly, however, the stop is about Obama visiting troops, he said.
Obama will meet with Odierno and with members of the U.S. military in Iraq. He will participate in the awarding of 10 medals of valor, Gibbs said.
"Our men and women who are in harm's way, either in Iraq or Afghanistan, deserve our utmost respect and appreciation," Gibbs reportedly told reporters traveling on Air Force One.