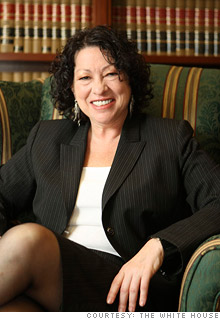 Business advocates started scrambling on Tuesday to figure out whether Supreme Court nominee Judge Sonia Sotomayor would be good or bad for companies.
But one thing was clear: If confirmed, she will be able to make her mark on business issues quickly, because a handful of key cases are already on the docket.
Companies and legal experts are scouring Sotomayor's past opinions to glean clues about how she could rule on business issues.
The Supreme Court has already agreed to consider several high-profile cases in the new term, which starts Oct. 5.
"The stakes are incredibly high with respect to business issues," said Elizabeth Nowicki, an associate professor who teaches business law at Tulane University in New Orleans.
Among the issues are questions about corporate governance and securities fraud, Nowicki said.
In fact, the high court added a new one to the roster on Tuesday. The justices agreed to consider a case involving Merck & Co. (MRK, Fortune 500) that addresses how long investors can wait before making a securities fraud claim.