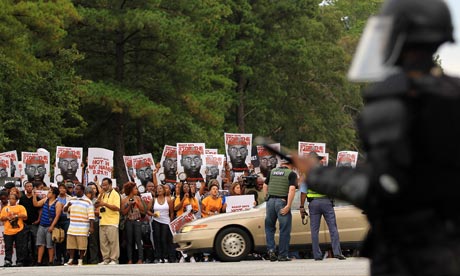 by Dr. Boyce Watkins, Syracuse University –
Scholarship in Action
Many of us went to bed hurt and angry about the unbelievable
execution of Troy Davis
last night. As I woke up in the midst of my emotional hangover, I thought carefully about Davis' case and the racial implications behind this predictable, yet deeply hurtful incident. When my brain finished processing the ramifications of this state-sanctioned murder, the following thoughts came to mind regarding what the Troy Davis case says about race and justice in America:
The Chatham County District Attorney is black:
Larry Chisolm is the African American who led the team of attorneys who inexplicably looked past all of the evidence that has come out proving that Troy Davis may not have killed anyone. Although Chisolm wasn't responsible for the original conviction, he must certainly answer to his own conscience regarding why he didn't take necessary steps to investigate facts that have been released since Troy Davis was first sentenced to die. I'm not sure what law school Mr. Chisolm attended, but I presume they taught him about a concept called "reasonable doubt." Any reasonable man/woman would see that there was significant doubt in the case of Troy Davis. But given the
allegations of misconduct
that have been placed against Chisolm in the past, I'm not sure if he is a man with the moral fiber necessary to do the right thing in the face of significant personal consequence – in fact, I also can't help but notice that he's from the same state as the "great" Clarence Thomas.
Chisolm's presence as the first black district attorney in his county, and Thomas' role on the Supreme Court, are reminders that the color of your skin can become irrelevant in the fight for true equality. While there are many blacks in the south who suffered and sacrificed to create the opportunity for men like Chisolm to hold the positions they occupy today, there are others who are willing to ride the coat tails of our community's collective struggle. Men like Chisolm are only given that much power if the state is sure that they aren't going to use it in a meaningful way – white supremacy reminds us that an incompetent black man who goes along with the program is often preferable to an extremely qualified man who fights for what is right.
The head of the Parole Board is black:
James E. Donald
, the head of the Georgia Board of Pardons and Paroles, is one of three black male members of the board that could have saved the life of Troy Davis. I'm sure that at least some of these men are having a hard time sleeping at night, for no intelligent human being can argue that this case possessed any degree of certainty. We unfortunately live in a world where a dogmatic commitment to procedure or protecting our colleagues overrides our desire to do the right thing. In fact, it sometimes leads to one black person helping to kill another.
White liberals view Troy Davis differently from the
African American
community:
As I listened to mainstream liberal analysis of the Troy Davis case, I noticed a stark difference in perspective from what I was hearing from many members of the black community. Liberals seemed to see Davis' case as part of a broader argument against using the death penalty under any circumstances. There was almost no discussion about the fact that yet another black man was being wrongfully executed, nor was there much discussion about the mass incarceration epidemic that has served to decimate the black family in America. The family of murdered police officer Mark MacPhail was right to be offended by the fact that this case was being used as a pawn to support a broader liberal agenda.
While there was collective outrage over the execution of Troy Davis, very few of African Americans in the
Your Black World
audience seemed to have a problem with the execution of White Supremacist Lawrence Russell Brewer, who was responsible for the 1998
dragging death of James Byrd
(both executions ironically occurred on the same day). In other words, many of the folks I heard from are not offended by the death penalty itself, but are only disappointed when it's applied incorrectly. Personally, I'm not sure if I'd regret seeing a man put to death for killing one of my loved ones – criminals issue the death penalty on a regular basis, and murder victims are never given a second chance.
This contrast in ideology is reflective of the conservative leaning of many members of the black community, especially those who are affiliated with the black church. I do not consider myself to be a conservative, but am reminded of just how differently blacks and whites still see the world, even when they rally for the same causes. I wonder if the death of Davis is going to lead to an enhanced effort to fight for other wrongly-convicted Americans who stand behind bars, or if the left is only interested in seeking out more political footballs.
Troy Davis is just one of thousands of
black men
who've had their lives stolen by this kind of atrocity:
The criminal justice system in America has never been a friend to the
African American male
. Black men are more likely to be stopped by police, more likely to be arrested when we commit the same crimes as whites, more likely to be sent to prison and end up receiving longer sentences than others.
Most of the disproportionate sentencing and incarceration of black men results from both the color of our skin and the size of our wallets. With black family wealth being 1/50th that of white Americans, it is often the inability to afford expensive legal counsel or threats of more prison time that cause many to plead guilty to crimes they did not commit. An American's right to fight for his/her innocence without the risk of a longer sentence should not be dependent upon whether or not your parents earn enough money to pay an expensive lawyer.
Troy Davis lives on in the hearts and spirits of those who stood by him. He has hopefully awakened our collective conscience and given us the desire to fight for what is right. Troy may be gone, but his death shall not be in vain, for there are thousands of other versions of Troy Davis in nearly every prison in America. Troy was the most famous black man to be railroaded by the police on false charges, but he was not the only one. These men and women must never be forgotten and the struggle against this terrible system must continue.
Dr.
Boyce Watkins
is a Professor at
Syracuse University
and founder of the Your Black World Coalition. To have Dr. Boyce commentary delivered to your email,
please click here.